Exhibitions

Eric Leiser is an award-winning filmmaker, animator, puppeteer, writer, holographer and multi-media artist working in the New York area born in California. A graduate from CalArt's Experimental Animation program [2005], he creates animated and live action feature films and shorts as well as works integrating animation, puppetry, holography, live performance and installation. Leiser is interested in how animation transforms perception when it is combined with live action space, creating a fantastical, spiritual, or surrealistic quality. His animated and live action films have been shown internationally in museums, film festivals worldwide, galleries, and through special installations across the United States, Europe, and Asia (specifics below).
In total, Eric has directed and produced over 40 films, eight of which appear in the Vanguard release Eclectic Shorts by Eric Leiser, and four features: Faustbook, Imagination, Glitch in the Grid – which were released theatrically in the U.S., select cities in Europe and Asia then distributed by Vanguard Cinema International – and recently Apocalypsis, which is slated for a late-2017-early 2018 theatrical release followed by a VOD release in late 2018. In recent news, Experimental Films by Eric Leiser was released on VOD platform Kinoscope in mid 2017. Eric is also the founding member of Albino Fawn Productions, which was co-founded with his brother Jeffrey Leiser. Recent press includes another feature in Animation Magazine, Twitch, Zippy Frames, Beyond the Cartoons, and KPBS.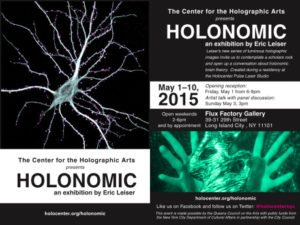 Eric's holographic work has exhibited in museums and galleries across the world (specifics below). His most recent exhibition Holonomic, at the Flux Factory in NYC was part of the UN's Year of Light worldwide exhibition. The ruby pulse holograms were created out of a Holocenter residency program at the Pulse Laser Studio within the department of Physics at Ohio State University and Island Holographics, NY and was funded by the Queens Art Fund Grant. His next upcoming exhibition is set for November-December 2017 at MaRS Gallery in Los Angeles.
Another recent event was the Kinoscope retrospective of Eric's experimental short films, 30 in number. The event was produced and was sponsered by the School of Media Studies at the New School in New York City. The event received press from major outlets, such as ARTNews, Fandor, and AWN.
E R I C   L E I S E R   E X H I B I T I O N S
Solo Visual Art Exhibitions
2017
Time Crystals, (MaRS) Museum of Retail Arts Museum, Los Angeles, CA
2016
Magnetic Poles, Galeria Entropia, Wroclaw, Poland
Wexner Center, Columbus, OH
2015
Holonomic, Holocenter, Flux Factory, Long Island City, NY
Retrospective:Experimental Films of Eric Leiser, Kinoscope, New School, NY
2013
Heartcore, The Living Gallery, Brooklyn, NY
Sound of Mu Gallery, Oslo, Norway
Galerie du Haut Pave Gallery, Paris, France
2012
Hologalactic: Duration and Simultaneity, All Things Project Gallery, New York, NY
2011
Holo Film, Haptic Touch, Holographic Universe, CAFA Gallery, Beijing, China
North Wind, Scandinavian East Coast Museum, Brooklyn, NY
Pilgrimsferd til Nidaros, Live With Animals Gallery, Brooklyn, NY
Rosemaling, IAM Gallery, New York, NY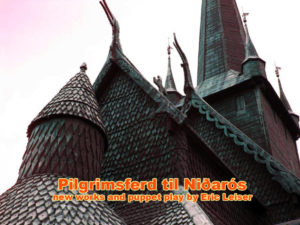 2008
Exhibition of the Holograms of Eric Leiser, Goldsmiths-University of London, London, England
Aleph 2, School of the Art Institute of Chicago, Chicago, IL
Aleph-Null, Fringe Exhibitions Gallery, Los Angeles, CA
A Puppet Show, Live With Animals, Brooklyn, NY
---
Group Visual Art Exhibitions
2016
Death is Green, Dreamlands, Whitney Museum of American Art, NY,NY
Venize Biennale, Venice Bienale, Venice, IT
2015
Art in General, Paddle 8, Flux Factory, Lower East Side, NY
United Nations/UNESCO, Year of Light, Multiple Locations
Bright Days, Secret Project Robot, Brooklyn, NY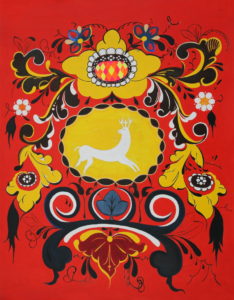 2014
Venus RX, Con Artist Gallery, LES, NY
Farewell, Holocenter, Long Island City, NY
Muchmores Gallery, Brooklyn, NY
Mondo Quebec, Quebec, Canada
2013
Warm Sensations, Secret Project Robot Gallery, Brooklyn, New York
End Times, HKJB Gallery, New York, NY
Holocenter, Long Island City, New York
The Third International New Media Art Triennial, Four- Dimensional Space Art Museum, Beijing, China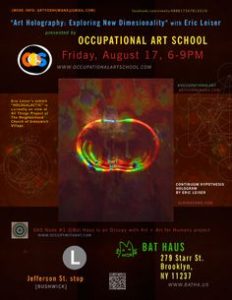 10th Annual Transmodern Festival, Baltimore, Maryland
MCBA Book Art Biennial, Minneapolis, Minnesota
Toycraft Gallery, Brooklyn, NY
2012
Powerplay, a Sculpture Park, Hayground School, Bridgehampton, NY
9th International Symposium on Display Holography (ISDH). MIT Museum, Boston, MA
Its a small, small world, Family Business Gallery, New York, NY
Joyride, Spencer Brownstone, New York, NY
Art Exchange With Sol LeWitt, Mass MoCA, MA
Art Exchange With Sol LeWitt, Cabinet Magazine, Brooklyn, NY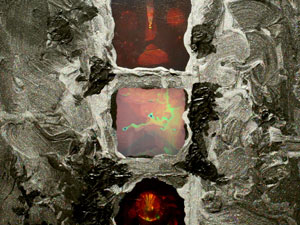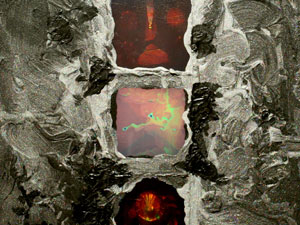 2011
Zero Point Energy, RIPNYC Gallery, New York, NY
2010
Transmutation, BETA Spaces, Brooklyn, NY
YES/NO- a subjective definition of synergy, Karstrupgardsamlingen Gallery, Copenhagen, DE
2009
Too Art for TV, Erebuni Gallery, Brooklyn, NY
Back 2 the Fun, Fun Gallery/Patti Astor, Los Angeles, CA
Mandrake Gallery, Los Angeles, CA
2007
Holodome, Ruben H Fleet Science Museum, San Diego, CA
2005
Giant Puppet Parade/Trash Band, Armory Arts Center, Los Angeles, CA
2004
Found Objects, Czech Surrealist Group Exhibitions, Praha, CZ
(invited by Jan Svankmajer)
Funeral March, Bread and Puppet Theater, CalArts, Valencia, CA
---
Film Screenings (partial listing)
2017
Whitney Museum of American Art, Dreamlands: Immersive Art and Cinema, 1905-2016, Organized by Chrissie Iles, NY,NY
Cannes Film Festival, (World Animation Day, Marche du Film) Cannes, France
Anthology Film Archives, NY,NY
MaRS Museum of Retail Gallery, Los Angeles, CA
2016
Whitney Museum of American Art, Dreamlands: Immersive Art and Cinema, 1905-2016, Organized by Chrissie Iles, NY,NY
Wexner Center for the Arts, Columbus, Ohio
LA Filmforum, Los Angeles, CA
Center for Visual Music, Oxford University, Oxford, UK
Royal College of Art, London, UK
Galeria Entropia, Wroclaw, Poland
Criterion Collection, NY, NY
Pratt Institute, NY, NY
CoAxial, Los Angeles, CA
Kensington Video, San Diego, CA
2015

The New School, Retrospective of the films of Eric Leiser, NY, NY
2013
Museum of Contemporary Art, Cinema Zuid, Antwerpen, Belgium
The Third International New Media Art Triennial, Four- Dimensional Space Art Museum, Beijing, China
ASIFA Croatia hosted "Films of Eric Leiser" Art Cinema Tuskanac, Zagreb, Croatia
Dom Kulture Studenski Grad Theater, Belgrade, Serbia
Vanima Theater, Varazdin, Croatia
Galerie du Haut Pave Gallery, Paris
Sound of Mu Gallery, Oslo, Norway
ESPTV, Art and Design Museum, NY, NY
MCBA Book Art Biennial, Minneapolis, Minnesota
ToyCraft Gallery, NY, NY
10th Annual Transmodern Festival, Baltimore, Maryland
Toronto Animated Image Society "Anijam Festival" Toronto, Canada
The Living Gallery, Brooklyn, NY
EITA Paris, France
CineFringe Film Festival, Edinburgh, Scotland
RojasFest4, Buenos Aires, Argentina
No Gloss Film Festival, Leeds, England
Nordic CC Film Festival, screenings in Norway, Sweden, Denmark, Iceland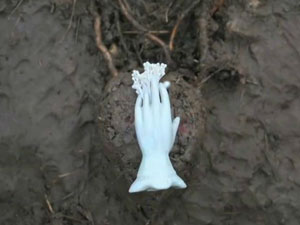 2012

Criterion Collection-New York, NY
FilmWax Film Series in Brooklyn, New York
FanCINE in Mexico City, Mexico
Cinema Village Theater (1 week run), New York City
The Sunset 5 Theater, (2 nights) West Hollywood CA
The Ken Cinema, San Diego, California
The Hollywood Theater, Portland, Oregon
Anthology Film Archives, New York
The Artemisia Moviehouse in Reno, Nevada
Hiroshima International Animation Festival, Hiroshima, Japan
Catskill Film & Video Festival, NY
The Foundry for Arts, Design and Culture, Cohoes, NY
2011
ANNECY Film Festival, Annecy, France
Park City Film Festival, Park City, Utah
San Francisco International Animation Festival, San Francisco, CA
(Opening Night Film)
Animacall: The Animation Project, The Museum of Contemporary Art, Thessaloniki, Greece
Los Angeles Film Forum, Hollywood, CA
Puck Cinema Caravan, Barcelona, Spain (Traveling Film Series)
The National Animation Industry Park, Tianjin, China
China Film Group, Beijing, China
Central Academy of Fine Arts- Beijing, China
CICF 2011 China Shijiazhuang 6th Session
International Animation Fair, Shijiazhuang, China
Hebei Institute of Communication, Shijiazhuang, China
I AM Gallery, New York, NY
Retrospective TAFTV-Big Screen Project, New York, NY
Live With Animals Gallery, Williamsburg, Brooklyn
Anthology Film Archives, New York, NY
2010
BETA Spaces 2010, Brooklyn, NY
Istanbul International Animation Festival, Istanbul, Turkey
Tekserve, New York, NY
Anthology Film Archives, New York, NY
I AM Gallery, New York, NY
All Things Project, New York, NY
2009
Pre Final Festival, Rome, Italy (with David Tibet and Steven Severin)
Cinema Detour- Rome, Italy (invited by David Tibet)
V&A Museum, London, England
Too Art for TV, Erebuni Gallery, Brooklyn, NY
Live With Animals Gallery, Brooklyn, NY
Tekserve, New York, NY
2008
SAIC Chicago Institute of Fine Arts, Chicago, IL
(invited by Artist Eduardo Kac)
CalArts, Valencia, CA
Fringe Exhibitions Gallery, Los Angeles, CA
Mandrake Gallery, Los Angeles, CA
Sunset 5 Theater, Los Angeles, CA
Films For Play Festival, Hollywood, CA
Ken Cinema San Diego,CA
Red Vic Cinema San Francisco, CA
Hollywood Theater, Portland, OR
Olympic Theater, Olympia, WA
Goldsmiths University of London, London, England
Istanbul Modern Museum of Art, Istanbul, Turkey
EXIS Experimental Film Festival, Seoul, Korea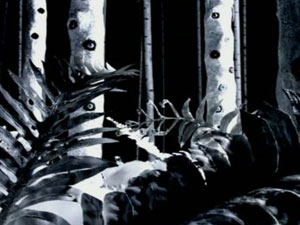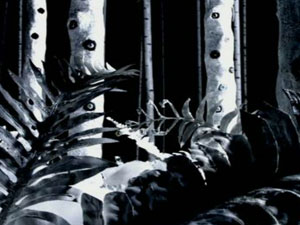 2007
Aarhus Film Festival, Aarhus, Denmark
HD Fest, New York, NY
Taiwan International Animation Festival,Tapei, Taiwan
2005
RedCat (CAP night students and teachers screening) Los Angeles, CA
Pregnant Pictures Crew Screening, Praha, CZ
Uherske Hradiste Film Festival, CZ
San Diego Public Library
Bijou Fest-CalArts
Rosary Room, San Diego, CA
Comic Con International, San Diego, CA
(with Pen Ward "Adventure Time" and Jacob Faust "Faustbook")
—————————————————————————————————————————
Lectures/Teaching/Visiting Artist
2013
ASIFA CROATIA Sponsored (artist talk/lecturer) feature Artist for World Animation Day hosted by ASIFA CROATIA President
2012
ASIFA JAPAN Sponsored Hiroshima International Film Festival hosted by ASIFA JAPAN President (artist talk/lecturer)
2011
The National Animation Industry Park, Tianjin, China (lecturer/workshop)
China Film Group, Beijing, China (lecturer/workshop)
Central Academy of Fine Arts- Beijing, China (visiting artist, lecturer/workshop)
CICF 2011 China Shijiazhuang 6th Session (visiting artist)
International Animation Fair, Shijiazhuang, China
Hebei Institute of Communication, Shijiazhuang, China (visiting artist, lecturer)
2010
Children Museum of the Arts, New York, NY (workshop host)
2009
California Institute of the Arts, Valencia, CA (visiting artist, lecturer)
Oakwood School for the Arts, Los Angeles, CA (teaching artist)
2008
SAIC Chicago Institute of Fine Arts, Chicago, IL (visiting artist, lecturer)
(invited by Artist Eduardo Kac)
Goldsmiths University of London, London, England (visiting artist, lecturer)
—————————————————————————————————————————
Commissions/Television Broadcast/Freelance Projects
2013
Music Video for UK band "Panteleimon", song "Ember"
Music Video for UK band "Panteleimon", song "If I Was"
Music Video for "Little Band of Sailors" song "Little Band of Sailors"
2012
Featured on Man Caves, DIY Cable TV Channel, (featured artist, featured hologram painting)
Music Video for Russian band The Clox, song "Broken Dream"
Short "Living Waters" for Spark and Echo Company
Featured as artist/filmmaker on Apple I Tunes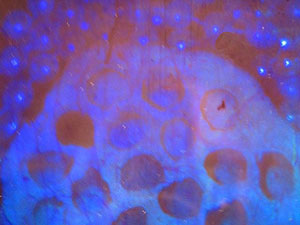 2011
Music Video for US band Trevor Davis, song: "Into the Forest"
Animation for feature film "Toxic Soup"
2006
Animation TV Pilot "Dumpling Diaries" for Shorty McShorts/Disney Channel
Featured on TAFTV show on the Channel Frederator
2005
Animation TV Pilot "Twilight Park" for Frederator and Nickelodeon Animation Studios
2004
Featured as Artist/Puppeteer on TV pilot "Muppet Reality Presentation"
Jim Henson Company, Hollywood, CA
(hosted by Kermit the Frog, Judged by Miss Piggy, Gonzo and Pepe) now owned by Disney
Animated commercial with Tyler Phillips for Amistar Corp (featured on Good Morning America, CNN)
——————————————————————————————————————-
Grants
Holocenter Artist Grant
Jules Engel Grant
Ahmanson Grant
Kodak Film Grant
SAIC Grant
Pregnant Pictures Grant
Awards
Holocenter Film Grant Award
Catskill Film & Video Festival, NY (Grand Jury Award, Audience Award)
San Diego County Artist Award
Publications/Bibliography
Books
"Thought Forms" 2013 (150 pages book of watercolors by Eric Leiser) part of the Book Art Biennale accepted into the permanent collection of the Minnesota Center for Book Arts
Animacall " New Experimental Animation" (book) Museum of Contemporary Art Thessaloniki Press
Aleph Null "Holograms of Eric Leiser" Fringe Exhibitions Press
Magazines
CalArts Magazine 2012
Variety 2008, 2011 (review)
Hollywood Reporter 2008 (review)
WagMag 2011
Bushwick Daily 2011 (featured article)
Artillery Magazine (Art Mag) 2010
Animation Magazine 2008 (featured article)
Newspapers:
The Huffington Post 2011 (featured)
The New York Times 2011 (review, featured)
The San Francisco Chronicle 2011 (featured)
LA Times 2011
LA Weekly 2011 (featured)
Portland Tribune 2011
Portland Mercury 2011
San Diego Tribune 2011
San Diego City Beat 2008, 2011 (featured)