Sound
Jeffrey Leiser is a film and concert composer, sound artist, and screenwriter. He has composed original music and created sound design for over 30 short films and 4 feature films, including Glitch in the Grid, for which he was awarded a Gold Medal from the Park City Film Music Festival. Jeffrey has also created music for multiple art exhibitions including Hologalactic. In total, 150+ film, art and concert works can be found on iTunes across 11 albums.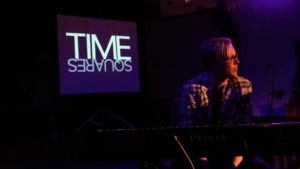 Jeffrey is the co-founder of Albino Fawn Productions. As a screenwriter, Jeffrey wrote Finding Infinity, a biopic about Georg Cantor. The Summit, his first full-length symphony, was recorded at Avatar Studios and released by Discovery Music. He also composed Time Squares and is writing an opera about Gudrid Thorbjarnardóttir (2016 cultural grantee, AmScan Foundation). Most recently, he completed the score for the feature film Apocalypsis. He is represented by Bright Media in the UK.
---
OFFICIAL WEBSITE:  www.jeffreyrolandleiser.com
---
---
Jane Jones introduces an exclusive overture for The Summit Symphony which aired on ClassicFM across the United Kingdom on Tuesday, January 5, 2016 as part of their Full Works Program.
Also, in the summer of 2016, Radio Nacional de España broadcasted
'The Summit Symphony' in full over the weekend (twice!).
---
S _ O _ U _ N _D          /             A _ R _ T
SOUND + SCORE FOR ART/INSTALLATION
+ 4 Feature Films on Request:
Faustbook [2005]
Imagination [2007]
Glitch in the Grid [2012]
Apocalypsis [2016]
---